Drinkware Cups Mugs Coasters and Accessories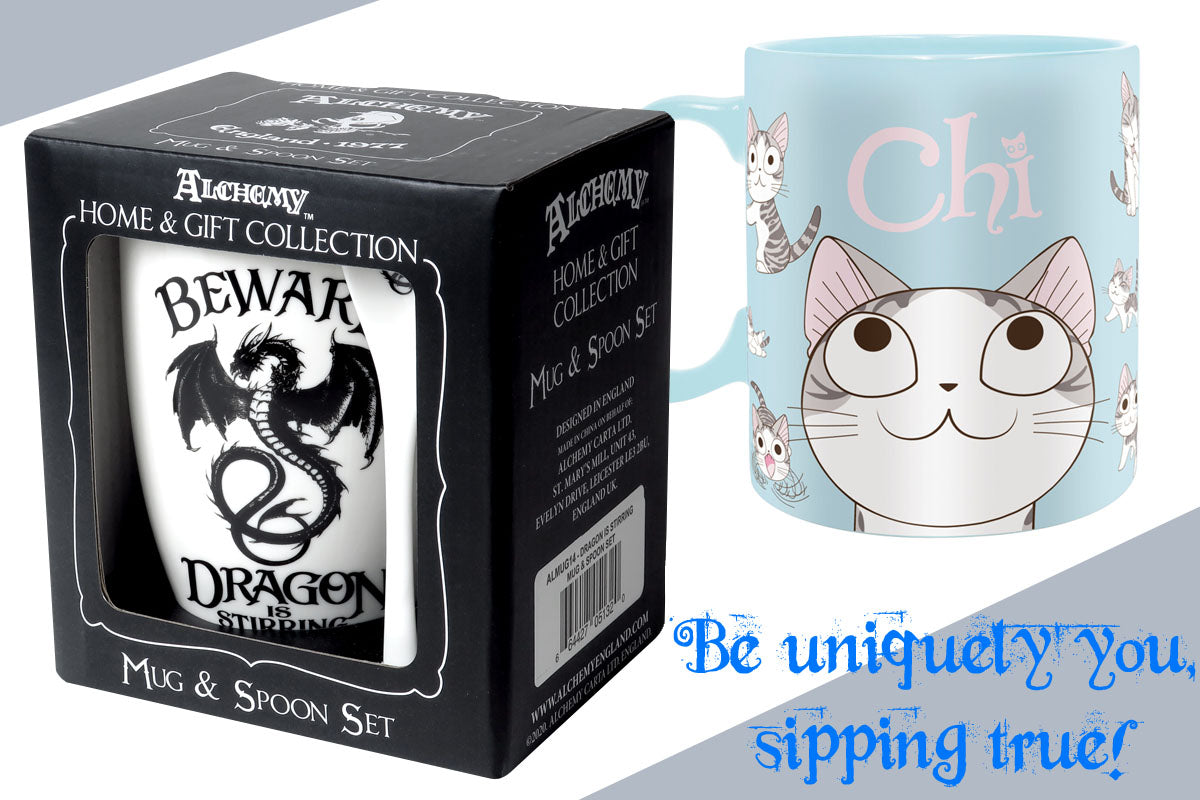 Drinkware: Cups, Mugs, Coasters & More
Embrace your uniqueness with Haiku POP! We celebrate the eclectic, the quirky, the distinctively you. We understand that everyone shines in their own unique hue of personality and style, and we're here to add a splash of that uniqueness to your everyday life.
How about your drinkware? Does it speak 'you'? We believe it should! That's why we've curated an exciting assortment of drinkware that runs the gamut from Gothic to cute, novelty to anime, and everything in between.
Browse our vibrant collection and find the perfect sipper that's not just a cup but a statement of your individuality.
View our Drinkware and Glassware
Unique Drinkware for you
Discover a world of unique drinkware at Haiku POP! Each meticulously crafted item in our collection is designed to reflect your individuality, adding a touch of charm to your everyday experiences.
Explore our broad range of distinctive anime cups, perfect for the anime enthusiast. These cups, ranging from bold, vivid designs to subtle, minimalist styles, serve as the perfect companion for your morning brew, afternoon tea, or comforting late-night hot chocolate. Our manga mugs also cater to the manga aficionados, ensuring every sip is accompanied by a touch of your favorite manga series.
Our ceramic mugs are not just any mugs. They're quality-crafted ceramic artworks that promise to enrich your coffee breaks or tea times. In our collection, you'll find gothic coffee mugs and color-changing mugs, each echoing your unique taste and mood of the day.
Experience elegance and utility with our anime cup sets. Ideal for serving your preferred brew, these sets are designed to turn tea time into a delightful ritual. You can choose from our wide array of designs, making these sets perfect gifts for the anime lover or tea connoisseur in your life.
For the lovers of the extraordinary, our gothic coasters add an edgy statement to your table. They don't merely protect your surfaces but act as intriguing conversation starters, reflecting your unique aesthetic.
Also, our collection extends to trivets and other drinkware accessories. These functional pieces add charm to your drinkware collection, protecting your surfaces from heat and condensation while doubling as stylish home decor elements.
At Haiku POP, we celebrate the power of self-expression. Our drinkware is an homage to your individuality, an embodiment of your unique style, and a tribute to diversity. Dive into our collection and discover the perfect pieces that narrate your story. Embrace your love for anime, manga, and gothic style with Haiku POP.
Our products